ahlibank signs an agreement with Al Adrak Contracting & Trading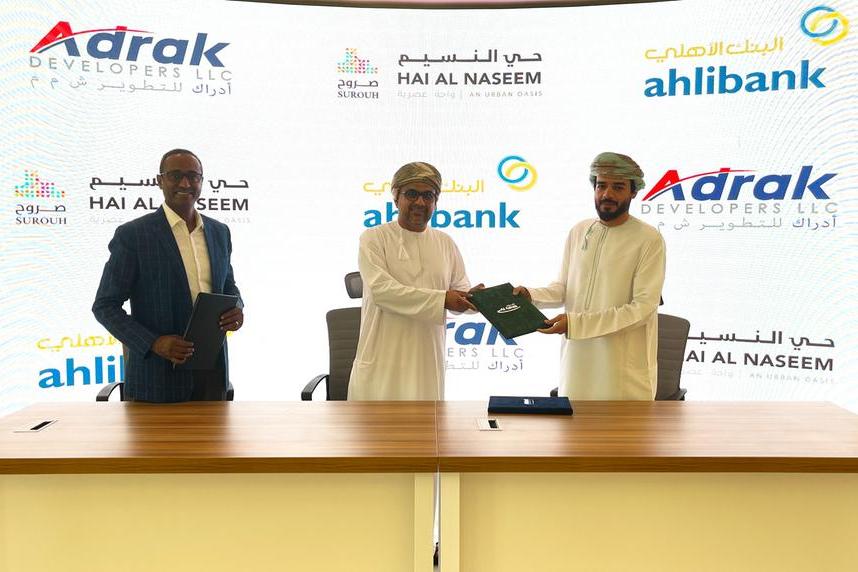 Muscat: Aiming to provide financial solutions to help clients achieve the goal of owning a decent home that provides peace of mind and secures their family's future, ahlibank announced the signing of a new agreement with Al Adrak Contracting and Trading Company to provide attractive mortgages for clients aspiring to purchase properties in the exclusive Hai Al Naseem housing project in Barka. Described as an "urban oasis", the main property is a pilot initiative under the government's "Affordable Housing Project".
The MoU was signed by Mr. Muneer Al Balushi, AGM – Head of Retail Distribution, ahlibank, and by Mr. Joseph Thampan – Managing Director, Commercial and Mr. Mahmood Masoud Al Ghafri – Director of Human Resources and of the administration of Al Adrak Contracting and Trading Company, during an official ceremony held in the presence of officials from both parties.
Speaking on the sidelines of the signing ceremony, Mr. Muneer called it a milestone in his efforts to work with the government in achieving national development goals. "This important agreement is a huge affirmation of our commitment to support government initiatives and partner with relevant authorities to achieve the goals of Oman Vision 2040, of which social welfare is the main pillar. One of the main characteristics of the Vision is "people and society". For this reason, we have continually emphasized social responsibility programs.
"It is an honor for ahlibank to be associated with a project of this magnitude. I would like to take this opportunity to reaffirm our intention to facilitate the way forward in bridging the gaps in the realization of the national development agenda. Through Hai Al Naseem, the pilot project – in Barka – under the government's "Affordable Housing Project" which was launched in 2017, we will contribute, in cooperation with Adrak Developers, to achieving the financial stability that the Omani citizen, by providing adequate housing. " he added.
Reiterating similar sentiments, Muzna Sulaiman Al Busaidi, Head of Corporate Communications at Al Adrak Contracting and Trading Company, said, "We are happy to have ahlibank on board to provide an essential financial link to potential clients. As the contracting arm of the consortium, we have been focused on creating an industry-rare mix of turnkey solutions with complete in-house facilities, and this will prove to be a winning formula for ahlibank customers who have the opportunity and the solution in their hands. . We have designed and built the housing unit to reflect a modern lifestyle, with facilities to match global standards. And with Barka being a bustling seaside town, homeowners are assured of safety and contentment at the 'urban oasis'.
The agreement aims to meet the home ownership objectives of the Bank's clients, by providing a new lifestyle lease in Hai Al Naseem. ahlibank offers a mortgage loan – at attractive interest rates starting at 4.5% per annum – before issuing the property to provide various housing alternatives to eligible citizens of residential land. It will also mark a new phase in ahlibank's inspiring growth trajectory as it demonstrates its flexibility in crafting financial solutions to meet the needs and aspirations of its diverse clientele while partnering with the government in its projects. of development.