Housing market returns to normal after boom | web supplement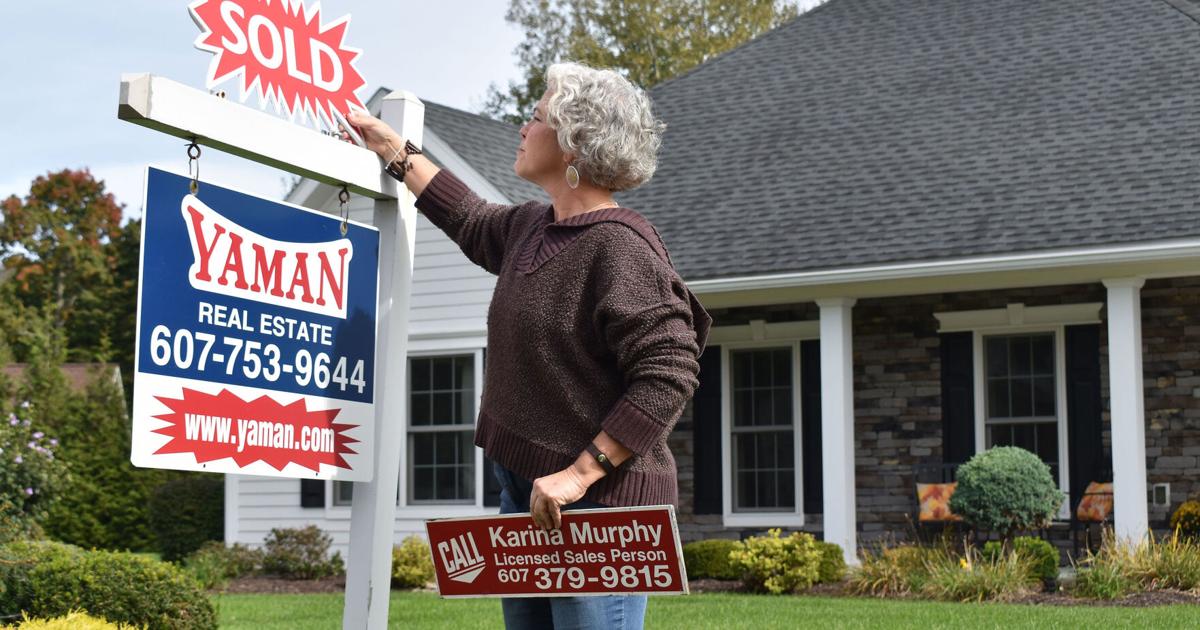 Steve DiPaolo and his family navigated a rapidly changing housing market for two years, looking for a home to return to their hometown. They closed on Wednesday. It's in Cortlandville.
The family had lived in Westchester County for 20 years and when DiPaolo's daughter enrolled at LeMoyne College in Syracuse, majoring in business two years ago, they decided to return.
"We are informed buyers," Steve DiPaolo said Wednesday. "We were patient to find the right agreement. We waited. We found the right house at the right price.
An overheated seller's market in the greater Cortland area and across the country has begun to cool in recent months as interest rates have begun to rise and home prices have fallen.
"The first sign of a real estate boom came in April 2020," Jamie Yaman, principal broker at Cortland-based Yaman Real Estate, said Friday.
"In April 2020, we saw a massive drop in the number of pending sales," suggesting inventory was running low, Yaman said. "In May, we were trying to orient ourselves, and the buyers too. In June it peaked and it never stopped until spring of this year. The market kept rolling and rolling and rolling, then within a month the light went out.
Prices have risen 20% to 30% on all types of homes — single-family, lakefront, vacant lots that have been on the market for years, Yaman said. "Every property class we had was affected."
The median sale price of a single-family home has increased by 14.5% between 2020 and 2021, reaching $151,985. That's 26.7% more than in 2017, according to figures from state realtors. They sold, regardless, regardless of price: 490,490 homes in 2021, up 26.9% from the previous year and 18.6% more than in 2017.
The DiPaolos had rented a house in the Cortland area. They were patient.
"We've made offers on many homes in the past," he said. "We didn't want to outbid just to get the house. We knew this (market) couldn't last forever.
A market we will never see again
Yaman said the COVID-19 pandemic was clearly driving the housing boom as people started spending more time at home and many worked remotely.
"People started looking around and said, 'I don't want to live here. It does not meet my needs," he said.
Yaman and his wife made a similar choice themselves, building a new home in Homer in July 2020.
Competition for homes has become so fierce that cash purchases have become the norm, he said. Anyone who had to sell a house to buy a new one couldn't keep up.
"It's a market we'll never see again," Yaman said. "There was a lot of money injected into the economy."
"The real estate market, prices are down," said Rose "Marie" Ferro, agent for Hage Real Estate and chairman of the Cortland County Board of Realtors. "When interest rates go up, prices go down. Interest is higher on mortgages.
Although mortgage rates have risen to around 6%, more than double the level at the end of 2021, they remain reasonable compared to longer-term trends, Ferro said. Interest rates had exceeded 10% a decade ago.
Home sellers have done very well over the past two years when interest rates have been low, as have real estate agents who work on commission, she said. But as home prices climbed, some buyers were squeezed out of the market.
"Interest rates were going down and prices were going up because people could get more homes for their money," Ferro said.
Some people, like the DiPaolos, decided to wait out the deal, she said.
New trend: rental
However, as prices finally come down, mortgage rates have risen, the stock market has crashed, and rising gas and utility prices have begun to eat away at purchasing power. This creates new barriers to home buying for many.
"You have to manage your budget," Ferro said.
The housing boom in single-family home sales was not sustainable and it was only a matter of time before market conditions deteriorated, Ferro said.
"It wasn't realistic," she said. "It was a fantasy world."
Homes are staying on the market a little longer and the annual winter sales slowdown is approaching, she said.
A new trend has developed, driven by changing market conditions, Ferro said: a sharp increase in rental investment property sales.
Some people who had been shut out of the housing market due to high prices and, more recently, inflation, are turning to buying multi-unit homes that they can live in and renting out to generate income.
A contributing factor was the sharp increase in apartment rents. Landlords have been hit hard during the pandemic as a state moratorium on evictions has left many landlords with a drop in income.
A tight housing market has given them an opportunity to raise rents, Ferro said, and Cortland has a good market for multifamily homes.
Mortgage, other rates up
The mortgage market declined rapidly as home sales slowed and mortgage rates rose, said Chris Hotchkiss, a mortgage originator for NBT Bank that covers Cortland and Tompkins counties and parts of Onondaga and from Cayuga.
Mortgage rates are tied to the 10-year Treasury bill rate, which tends to be lower than the prime rate that the Federal Reserve sets for banks. The two rates generally fluctuate in similar patterns, but not necessarily, Hotchkiss said.
The 30-year mortgage rate has fluctuated since around 2008 and was 4.63% in 2018 before dropping to 2.75% late last year, Hotchkiss said. The rate has since risen to 6.75% this week. NBT's rates are industry average in this area, Hotchkiss said.
The financing market has evaporated this year as many homeowners have already locked themselves into low mortgage rates, Hotchkiss said.
Raising interest rates by the Federal Reserve will drive up rates on home equity loans and credit cards, he added, making home repairs and improvements more expensive.
Back to normal
While the housing market has cooled considerably, it has actually returned to pre-boom levels, Yaman said.
"The past two years have clearly been a seller's market," Yaman said. "It's a healthy balance for us."
Despite the rollercoaster ride in the housing market in recent years, real estate remains a solid investment, Ferro said.
"You can still make money from your house," she said. "If your house is in good condition and you have maintained it, you will earn money."